Your Support is greatly appreciated.
Be it volunteering your time, expertise or  Aistear resources each contribution adds significantly to a each child's learning potential and helps build  the creative, simulating and caring learning environment that infuses our inclusive school.  Scroll below to find out how you can help: OUR 2021 AISTEAR WISHLIST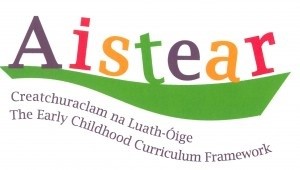 Parents: the information you Need!                               
 WHAT is AISTEAR? 
Aistear is a curriculum framework for children from birth to six years in Ireland. It gives information to help plan for and provide enjoyable and challenging learning experiences so that all children can grow and develop as competent and confident learners. Therefore it is an essential part of the Junior & Senior Infants day!
When, where & how does Aistear work? The Aistear framework is based on 12 broad principles –linked to the aims and objectives of the Primary School Curriculum. In essence Aistear enables classroom teachers to deliver the curriculum in both an age appropriate and integrated thematic way. At Infants level teachers will prioritise 30 minutes daily Aistear play in the classroom or whole school environment.
Why use Integrated Play/Aistear at Primary School Level?
Research demonstrates: Play nurtures, cultivates & helps to:
Promote positive social life skills & relationships – Scaffolding social, negotiating & problems-solving skills via Learning to share/take turns, voice ideas & listening to others etc.
Promotes cognitive skills– Critical & practical thought processes- Planning for construction, what fits or works & what does not! Materials: shape & composition
Motor Development: Fine & Large Motor skills (Muscles)needed to create small Lego projects to larger cardboard Homes etc.
Creativity – using imaginative thought, planning etc to create outfit/ build a house out of recycling/junk material etc.
Language & Literacy –Greetings/Creating Menus/Health & safety posters.
Numeracy- Restaurant/shop/post office play- paying & giving change.
How to Support Aistear at Home?
Give TIME, SPACE, BASIC Materials & even JOIN in!
How School can help support HOME Play?
As the year progresses you will receive a brief outline of each theme at the beginning of every calendar month.  This outline will include ways in which you can help and deepen your child's learning experiences across the curriculum!
                                                                      OUR WISHLIST
Mini-figures (Lego men, plastic figures, miniature police, fire officers, nurses, doctors, farmers, children)
Toy miniature animals (eg. Farm animals, jungle animals, pets, birds, polar bears, penguins, insects)
Toy houses/buildings (eg. Dolls house, farm sets, shop buildings etc.)
Miniature cars, ambulances, fire brigades, police cars, boats etc.)
Portable writing Boards
Outdoor Blackboards
Car and town mats
Miniature road signs
Blocks and Lego (big and small)
Science Equipment
Map of Ireland
Unwanted microphone (toy or real)…Donation made by a Parent
Toy Doctor/Nurse/Scientist/Builders/Vet set
Dress up costumes
Health & Safety Equipment (toy builders' hats, plastic hammers etc.)
Toy musical instruments
Dolls
Plastic food
Play money
Plastic baking bowls
Oil table cloths
Puppet stage
Sand pit
YOUR SUPPORT IS GREATLY APPRECIATED! Although our School has some AISTEAR equipment just as imagination is endless – preparing resources for Aistear requires plenty of materials & equipment. The great news is you might have some of these basic things around the house which are no longer used. If so we would be grateful of your could donate them to our school AISTEAR WISHLIST-
*We will leave a box labelled "Aistear" in the reception where you can drop them. *
THANK-YOU