This page is intended to provide details of the Woodstock ETNS main 'Healthy Eating' policy alongside the unfolding of our 'Wellbeing Framework for Practice (2023).'
It is intended to guide the whole school community (teachers, parents, pupils and guardians) by bringing awareness and insight to the health & wellbeing culture and proactive approaches at Woodstock ETNS.
 What is Wellbeing?             

 "Wellbeing is present when a person realises their potential, is resilient in dealing with the normal stresses of their life, takes care of their physical wellbeing and has a sense of purpose, connection and belonging to a wider community. It is a fluid way of being and needs nurturing throughout life" (WHO, 2001).
    In the Primary School context 4 key areas are identified as integral aspects that when positively addressed directly impact the Wellbeing promotion process. At Woodstock ETNS we embrace a 2 tiered support for our pupils- A Whole School Approach demonstrated through the classroom based NEPs approved Resiliency programme (FRIENDS FIRST) & via Individual Interventions which are promoted and supported by our Wellbeing Specialist Teacher.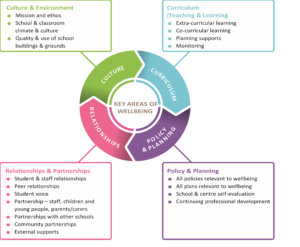 Source: https://www.education.ie/en/Schools-Colleges/Information/wellbeingineducation/catalogue-of-resources-for-primary-schools.pdf
This policy was formulated by members of the teaching staff in consultation with other staff members, the pupils, parent representatives, Principal and Board of Management. All feedback is encouraged and welcome!
Healthy eating in childhood:      
Can help improve performance in class and at play
Can help improve concentration
Meets children's nutrients needs for growth and development
Encourages good eating habits for life
Why have a healthy eating policy?
It improves the nutrition standard and eating habits of all in the school
If helps to clarify the school's position on foods encouraged/discouraged
It acts as a guideline for any new staff or families joining the school
It ensures that the message children receive from both teachers and parents is consistent.
It ensures that what is taught at home and in the classroom is put into practice.
List of banned foods from our school due to allergies:
Sesame
Sesame seed
Sesame sticks/sesame snaps
Any seeded bagels, burger buns, breadsticks, crackers, bread etc that include sesame seeds
Sesame oil, or any food made with sesame oil
Sesame paste Tahini (also called benne, gingelly, til)
Hummus (this generally contains tahini/sesame)
Halva (a sweet made out of sesame seeds)
Cereals, such as muesli and granola which contain sesame seeds.
Tempeh (check ingredients for sesame)
Sesame flour Rice cakes (most commercial rice cakes (even organic) also include sesame as ingredient so particular care is needed to check ingredients)
Nuts
Almonds
Brazil nuts
Cashews
Chestnuts
Hazelnuts
Macadamias
Mixed nuts
Peanuts
Pecans
Pine nuts
Pistachio nuts
Walnuts
Nut filled chocolate spreads (eg Nutella or other brand)
Nut butters
Pestos (usually contains pine nuts or cashew nuts)
Breakfast cereals and muesli bars containing nuts
Chocolate containing nuts (eg. Snickers bars)
Baklava, Greek pastry (walnut or peanut)
Marzipan (almond)
Praline (usually hazelnut)
Nut biscuits such as amaretti, macaroons
Florentines (almond)
Nut milk (eg. Almond milk)